25th Anniversary Vows Renewal
We couldn't be any more happier with the ceremony that Eva provided us for our ceremony. Eva went above and beyond with every details. Eva was very professional and made the ceremony very personable. Throughout the whole process leading up the ceremony she took care of everything and provided our moment something that we will remember for the rest of lives. I give Eva the highest recommendations especially for the men out there trying to surprise their wives with a ceremony. Eva will think and take care of every detail.
5 Stars.. Cindy Dickson 2018
Wow…Eva did an amazing job with our wedding it was exactly as we pictured personal and intimate.!
Everything we asked was provided..most definitely would recommend Eva and Affordable Beach Weddings to anyone!
Thank you so much Eva for making Marvin and I the wedding of our dreams!
Marvin & JoAnna Harry
Beautiful job! Thank you so much for making my son's wedding such a memorable event. Even with the rain forcing us to move inside, you were able to change everything on the fly and create a beautiful event. Very thankful!Kyle and Colleen Fischer
I can't say enough about Eva and her team at Affordable Beach Wedding. My wedding was beyond perfect and I can't thank them enough. I called Eva about 1.5 months before our wedding to book. She fit me in on the exact date I wanted but said since there was another wedding shortly after mine that she would not be able to change the chair covers/altar sashes from white to ivory. When I pulled up to the ceremony, I was shocked to see everything was the color I wanted. She took the extra time and rushed to make sure I had the colors I wanted. It meant the world to me! > The photographer was absolutely amazing as well! She was so patient with my crazy wild family and spent so much time with us to make sure I got every picture I wanted. I could go on and on about how amazing my wedding day was. THANK YOU SO MUCH Eva and The Affordable Beach Wedding crew. It was perfect!! Leslie/Michael Davis
Eva did our wedding for us last week. My new wife was just thrilled with her handling of the ceremony, the flowers, the beautiful wedding arch and canopy. She was very professional and helped us with everything we needed. Josh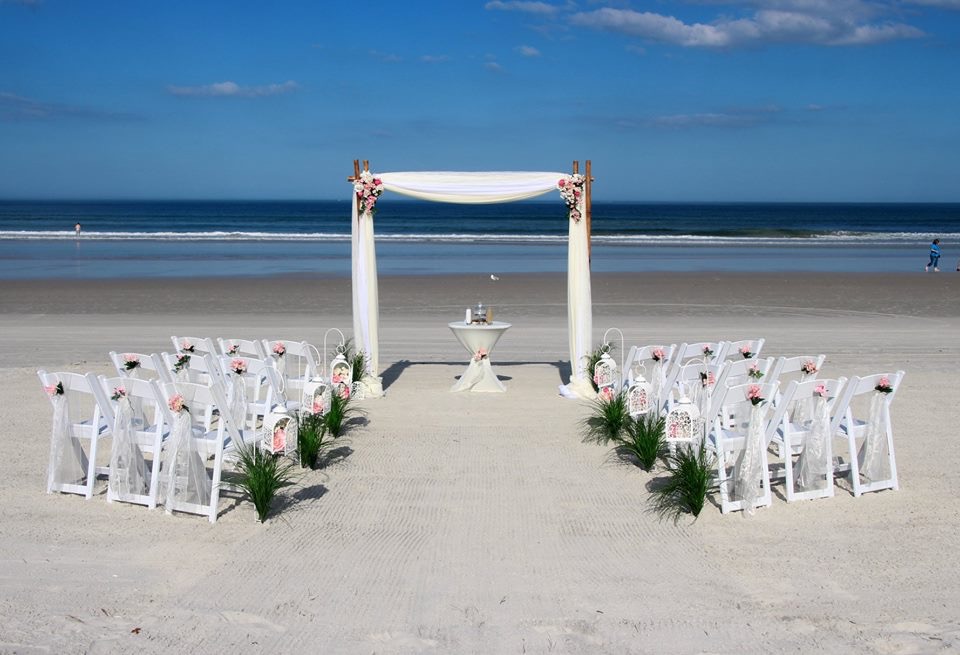 Submit a Testimonial
If we have hosted a beach wedding for you please let us know about your experience with us. Thank you!
Breath Taking Wedding
Affordable Beach Wedding made our special day the most beautiful & memorable day of our lives!! Every single element was perfect. The decor was gorgeous & the setting made for the most breath taking scene imaginable!! It was definitely more wonderful than I could have ever imagined, I never wanted to leave. Eva was so friendly & considerate to our every need, very helpful & patient with us at a time that can be so stressful in planning!!! We was very impressed with the photos & I would recommend using their photography for the most memorable moments captured!! In all we are very satisfied & wouldn't have had it any other way;) Thanks to you guys so much for making our fairytale come true!!!Tiffany & Kris Gray
HIGHLY RECOMMENDED!!
My husband and I got married on 8/24/12, and are coming up on our 1 year anniversary! Mike and Eva did an amazing job when it came to our wedding! Everything was perfect and smooth. They made anything and everything so simple to do. We didn't really have to do anything at all. Our wedding was more than I had could have ever asked for. Perfection in my eyes. I love the photos that were taken and how it was more than I had ever expected my wedding day to be. I would recommend to anyone I know! You guys are awesome and thank you again! Alex & Courtney
Amazing day
Very best wedding is what my guest said to describe their experience. I enjoyed everything about my big day. The flowers were beautiful and my vision really came to life. Thank you for the work and time you guys put in to make my dream beach wedding come true.
Antoinette Cantrell
This was a very easy way to get married . I was so worried but eva pulled it all together they are nice people. We had a beautiful wedding thanks to them. Here's to many many more years to come !!!!Tina Johnson
Absolutely Stunning
Thank you Affordable beach wedding LLC for making our Wedding day so special we appreciate all you've done special shout out to Eva and Tanya and the rest of the crew for absolutely making it Beautiful..
i will highly recommend this website to every and anyone they are amazing
Thank you so much
Mr & Mrs Rodriguez Melody
Absolutely Amazing
Thank you so much Eva, you have made our wedding so beautiful we could not ask for anything better. We loved everything and it was all worth it. I will recommend Affordable Beach wedding LLC to anyone. They are Amazing!
Mr & Mrs Rodriguez
WE HIGHLY RECOMMEND
Our sunrise wedding on 6-01-13 was more than we could have ever asked for. Thank you Mike and Eva for a very special day for us. You will forever be a part of our lives. WE HIGHLY RECOMMEND THEM TO ANYONE WANTING ANY TYPE OF BEACH WEDDING!
Ross & Michelle
Picture Perfect!!!
Eva did an outstanding job from start to finish! From the start, Eva was such a huge help and support with all my questions and ideas. We did not meet either of them until the day of our wedding and we could not have been more pleased. The beach location and beach decorations were breath-taking. Eve did an excellent job with details, organization, scheduling, and the hair for my bridal party and I. Service was flawless and the words spoken to us will forever be in our memory and a part of our daily life. The conch shell horn, the sand ceremony, the prayer, and music made each moment more priceless. Once the ceremony was over, Eva spent so much time taking family and personal photos that made the entire day a memory that will last forever. I am not trying to sound cheesy when I say this but I do think that our wedding was PICTURE PERFECT and I would recommend Affordable Beach Wedding LLC to anyone in the New Smryna Beach area!!! Thank you so much for making our day unforgettable. Sarah and Luke Eisenmann Tulsa
5 STARS
My wife, Kathleen, and I can't say enough how outstanding our wedding was on the beach near the boardwalk in New Smyrna Beach, Florida. The set up by Affordable Beach Wedding for the event was spectacular, and we were lucky enough to have a photo of us land on their website! But even more amazing was the accommodating nature of Eva to make our day "just right." They presented us with a wonderful ceremony with beautiful flowers and backdrop of the ocean and Ponce Inlet. They allowed us to use our own music, took great photos of the ceremony before, during and after. They also videoed the ceremony which has allowed us to relive the day. We can't say enough how thoughtful the two of them were in planning the day. We would both highly recommend anyone to use their services to experience a day to remember. Ocean breeze, sand, flowers, beautiful music, and family made the day very special for us. We have to thank Eva for a job WELL DONE!
Jack and Kathleen
Thank you so much Eva. With your help our beach wedding was everything my husband and I dreamed of. I highly recommend Affordable Beach Wedding LLC to anyone who dreams of a simple yet elegant wedding on the beach. Thanks again you guys.
Amin Rufener
You did so well. We are so happy to have found you, and we wish you the best of luck. Wedding was well planned. We could not be happier. Graham and Leah
An Elegant Wedding
It was fun and elegant. We were expecting everything to be just perfect, and it was! Eva worked very closely with us and planned out everything we wanted for our wedding. She even gave us extra services that we didn't pay for. All of our photos are on CD for us and they gave us a free DVD slideshow of our wedding. It was just beautiful and I would highly recommend this company to any bride looking for a wedding in Florida.
Marie F.
True Professionals
Hi, I'm Sarah, Eva did our wedding ceremony on January 29th. The date was a last minute decision so we didn't have much time to plan everything when we called about getting married. She took care of everything for us and were really nice people to work with. The ceremony was beautiful and the weather was perfect for a beach wedding. She even gave us a free sand ceremony and it will be something I will always remember. It was beautiful!
Sarah and Jimmy
The Perfect Wedding
Eva did a wonderful job with our wedding. It was a very cold day for Florida, but it all went without a hitch and was perfect for us and our guests. She provided us with everything that we wanted and the flowers on the wedding arch and bouquet were more beautiful than we could have imagined. We recommend her to anyone that wants to get married.
Christopher and Caren
Thank you for my dream beach wedding
Beba2de
Beautiful
We got married yesterday on the beach in New Smyrna Beach and it was beautiful! Affordable Beach Wedding had everything we wanted plus a whole lot more. She threw in a lot of extras for our wedding. It was so cold that day on the beach but it was all worth it. The ceremony was perfect, the flowers were beautiful and the photos were stunning. We are going on our honeymoon today, but we wanted to say "Thank you" for making our wedding day so perfect.
color: white; Karen